DEATH CULT - 8323 TOUR
Foundry, Sheffield.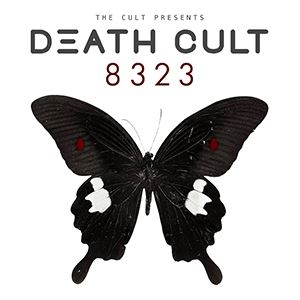 1. Your ticket purchase constitutes a personal, revocable license and, at all times, remains the property of the promoters. This ticket must be surrendered to the promoters upon request.
2. Your ticket/s are sold by the promoters directly to you the consumer. Any tickets purchased by business or traders in breach of the terms and conditions of ticket sale will be cancelled. By accepting these terms and conditions you confirm that you are a consumer.
3. Your ticket/s will IMMEDIATELY BECOME INVALID if resold OR OFFERED FOR SALE unless the sale is through the Artist's official re-sale channels as advertised, or ticket agent fan to fan exchange (where applicable). Tickets sold via third parties and other unauthorised outlets, including online auction sites, are not valid for admission. . The resale of a ticket renders it invalid and may lead to refusal of entry.
4. Ticket sales are limited to a maximum of 6 per person.
5. Only tickets purchased through approved ticket agents are valid for admission. The venue reserves the right to refuse admission.
This event is for 14 and over - No refunds will be issued for under 14s.
More information about DEATH CULT - 8323 TOUR tickets
Death Cult returns. The storied post-punk progenitor to The Cult will headline a one-off 12-date tour across the UK and Ireland throughout November 2023, including many venues where they made their live debut as a band. The evening, while centered around Death Cult and their eponymous EPs, will boast a setlist that spans the three phases of the band, from Southern Death Cult, to Death Cult, and The Cult's first two albums: Dreamtime (1984) and Love (1985). Southern Death Cult formed in 1981, releasing their sole, self-titled album posthumously in 1983. That same year, Death Cult formed, with Astbury joining forces with Duffy for a musical partnership that has endured for 40-plus years. The band released two 12-inches that same year, one being the Death Cult EP, which were subsequently combined and released as a CD. Death Cult is a vital transmission from the generation of Shamanic post-punk gothic futurists. Death Cult became The Cult in 1984. Releasing Dreamtime that same year and going on to experience a career that has seen the release of 11 full-length albums, as well as numerous international and U.S. gold and platinum certifications.